Welcome to the East London Kawasaki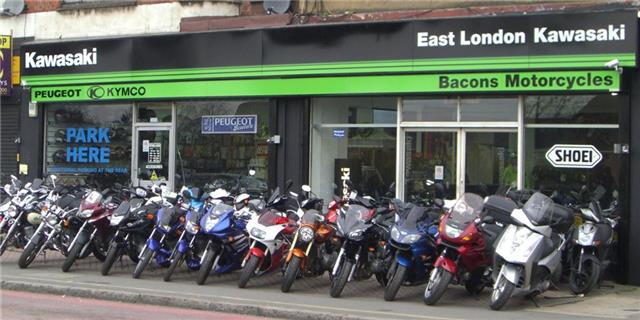 Here you will find the information you need to make the right decision on choosing your new or used, motorbike or scooter. We offer a wide range of products from helmets and protective clothing, through to chains and accessories, not to mention the bikes themselves.
Kawasaki's new range now in stock
 --- We are pleased to announce that we have a wide range of  new Kawasaki motorcycles and scooters within our showroom.
Furthermore, our promise to you is that we will do our very best to price match any deal you can find on a like for like new Kawasaki motorcycle (proof is required).
At Bacon's Motorcycles not only do we sell new Kawasaki's but also a various range of used bikes and scooters, with various deals available, our most popular one is for the (taxi) Knowledge Deal.
If you have any queries, please feel free to click, call or drop in and speak to a member of our team will be pleased to help. There is parking available around the side of the shop in Oaks Lane. It does have yellow lines but they are only in operation between 11am and 12 noon.
For more information about our Motorbikes, Scooters and Accessories please visit Bacon's Motorcycles.
*subject to terms and conditions, Minimum £100 deposit, Finance supplied by Black Horse